Archive for Juli, 2019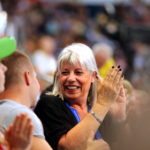 At the 2nd European Games in Minsk I spotted a very special and famous guest amongst the spectators: Worldwide chief of Acrobatic Gymnastics Rosy Taeymans from Belgium, President of the Acrobatics Gymnastics Technical Committee (Acro TC) in the Fédération Internationale de Gymnastique (FIG). There was even the opportunity for an interview.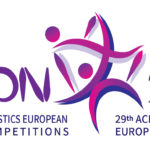 Der Deutsche Sportakrobatik Bund hat seine Nominierung für die Europameisterschaft 2019 in Holon (Israel) bekanntgegeben. Die Wettkämpfe der Junioren und Senioren finden vom 30. Oktober bis 3. November statt, die der Age Groups 11-16 und 12-18 bereits vom 24. bis 27. Oktober.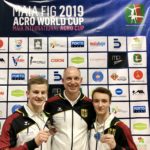 Deutschlands derzeitige Vorzeige-Sportakrobaten, die World-Games-Champions Tim Sebastian (Dresden) und Michail Kraft (Riesa) sind furios ins neue Wettkampfjahr gestartet: dreimal Weltcup-Silber in Portugal, den USA und Belgien. Diese frühen Erfolge könnten kaum vielversprechender sein im Hinblick auf den diesjährigen Saisonhöhepunkt, die Europameisterschaft im Herbst in Israel. Ich habe mit den beiden über das Vize-Triple gesprochen.