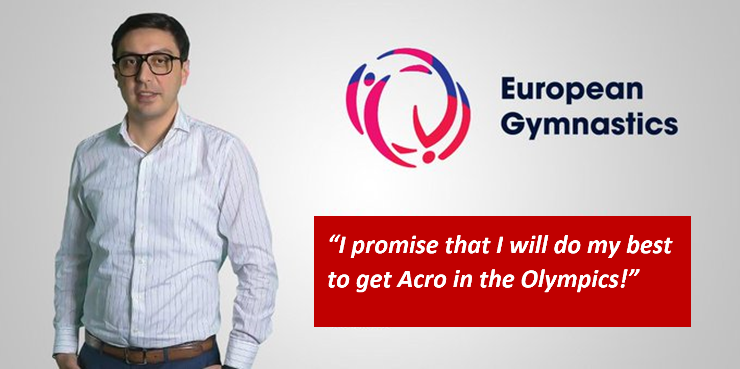 On 6 November, International Gymnastics Federation (FIG) renews its decision-making bodies for a three-year term at its Congress in Antalya (Turkey). Most important of all: Two candidates will run for FIG Presidency, current FIG President Morinari Watanabe (Japan) and Dr. Farid Gayibov (Azerbaijan), President of European Gymnastics. During the European Championships in Pesaro (Italy) I had the chance to ask the challenger about his strategy for Acrobatic Gymnastics.
Schipfel: If you become FIG President, what will your plans for Acrobatic Gymnastics look like?
Gayibov: As you can read in my manifesto, one of my goals is to bring more gymnastics disciplines to the Olympic Games. I think that we should be more active at this.
We always see that Acrobatics Gymnastics is very spectacular and a very good discipline. Honestly, I believe that one day Acro can be an Olympic sport. We owe the discipline to include it. The only thing is just how to do it, how to present it.
So, you want Acrobatics in the Olympics!?
I'm the president of European Gymnastics, where we developed this discipline. Why should I say no? I should say yes. I must say yes. And I do! We have to get Acro in the Olympics. This is our job!
In Europe we tried: In 2015, when we organized the European Games in Baku, we pushed very hard, and we included Acro in the programme. Then in 2019, in Minsk, we kept it. So, we took like a step. Then we were in the Youth Olympic Games. It shows that there is some perspective.
I cannot promise that I will get Acro in the Olympics because it's not up to me in the end. What I can promise is that I will do my best to reach this goal.
How do you want to reach this goal?
Most of all, we must prepare ourselves. We need a strategy how we can do it. Therefore, we should create a working group to find out what we need.
If the strategy is accepted on Executive Committee level, then we should work on it. It should not be like only FIG works on it. It should be the federations who are developing this sport today all together with the Olympic committees, the ministries. I believe that together we can do it.
It's all about strategy. I don't say like 'I want Acrobatics in the Olympics, so please vote for me!'. We need a strategy, work on it and then be ready to go to Olympic Committee and answer all their questions.
What will the Acro community have to work on most?
There are some difficulties and problems: For example, with the age. Sometimes we also have problems that there are not enough Men's Groups. And we see that many countries in Acrobatics are from Europe. Three years ago, at the World Championships 80 per cent of the teams were from Europe. We should also try to develop in other countries as well. If I'm not mistaken, in Asia at their last championships, they had seven countries. If we compare the World Championships in Geneve with the Europeans here in Pesaro, the number of countries is almost the same.
How did you like the championships here in Pesaro?
The organizers did a great job!
Competitions were really interesting. There is no huge difference between the first place and the others.
Italy is not the strongest country in this discipline, but still, they are developing and competing here as well. That is great!
I am also thankful that there were a lot of spectators. Many parents came from different countries like Belgium, Portugal, or Israel. If we compare it with two weeks ago, when we had European Championships in Aerobics, we have really many spectators now. It is good to see audience. It is good to see emotions.
Thank you for this interview!
Category: EM 2021 in Pesaro, Personalien und Verbandsangelegenheiten