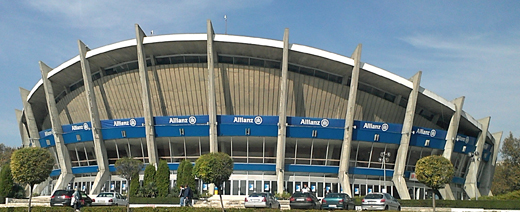 Im Akro-Newsletter 7/2011 des Europäischen Turnverbandes (UEG) blickt Laurie Colton, Präsident des Technischen Komitees für Sportakrobatik in der UEG, zurück aufs Jahr 2011 – natürlich auch auf die Europameisterschaften in Varna. Im Fazit dankt er dabei den Ausrichtern für deren großartige Arbeit. Aus dem aktuellen Akro-Newsletter der UEG…
25th European Championships
9th Junior Championships
Incorporating the 6th European Age Group Games
Summary: The city of Varna, situated in the East part of Bulgaria, on the Black Sea coast, played host to the European Championships in Acrobatic Gymnastics from 20th to 31st October 2011. A mixture of excellent organisation, hard work and endeavour from the ACRO TC / LOC, invited expert judges and volunteers all contributed to creating a championship that everyone involved can be proud of. The new competition format, including individual titles, seems to have a general approval. In some cases, it has "opened" access to finals and to medals to some countries which are not usually at that level.
Competition: We were pleased to welcome Monaco for the second time to a European competition. It is always rewarding to see in competition Federations that have benefited from assistance provided through the ACRO TC / UEG Training Camps, coaching and judging courses. The Age Groups were held over two days before the start of the Senior and Junior event. The new program was designed with the competitors as a prime consideration. For future competitions we need to look at the format with a view to change. The present system will not allow us to expand the event, which is our intention and part of our development programme.
Age groups: The quality, skill and application continue to improve and the Age Group program is proving an ideal introduction to competition through a controlled and planned system.
Junior Championships: The junior competition was of a high standard with some very good exercises, especially in the mixed pairs, women's pairs and women's groups. The overall impression was a pleasing and skilful performance by many of the gymnasts.
Senior Championships: The senior competition provided some exciting performances as the bar seems to go high as each championship brings forth innovative balance elements and spectacular dynamic elements. There were a number of excellent performances.
Accommodation: Accommodation for the event was of a good standard.
Food: A range of food was available including salads and vegetarian dishes. In general the food was of a reasonable standard and wholesome.
Transport: Repair works at Varna airport during the entire period of competition imposed on the organisers a need to provide transportation from and to Burgas airport. Transport between hotel and competition venue was generally good.
Social: The closing banquets for Age Groups, Senior and Junior athletes were held in local venues and were appreciated by all attending.
Media: The juniors and seniors were filmed for Bulgaria national television; a live web cam broadcast was most popular for internet users.
THANK YOU ORGANISERS. A GREAT JOB.
Category: EM 2011 in Varna