Many people refer to him as the best Acrobatics coach in the world: Neil Griffiths. At the 29th European Championships in Acrobatic Gymnastics in Holon, former twice World Champion in Mixed Pairs was a spectator. During his time coaching he had managed to build a World and European Champion at senior level in every category in his clubs. I had the chance to talk to him.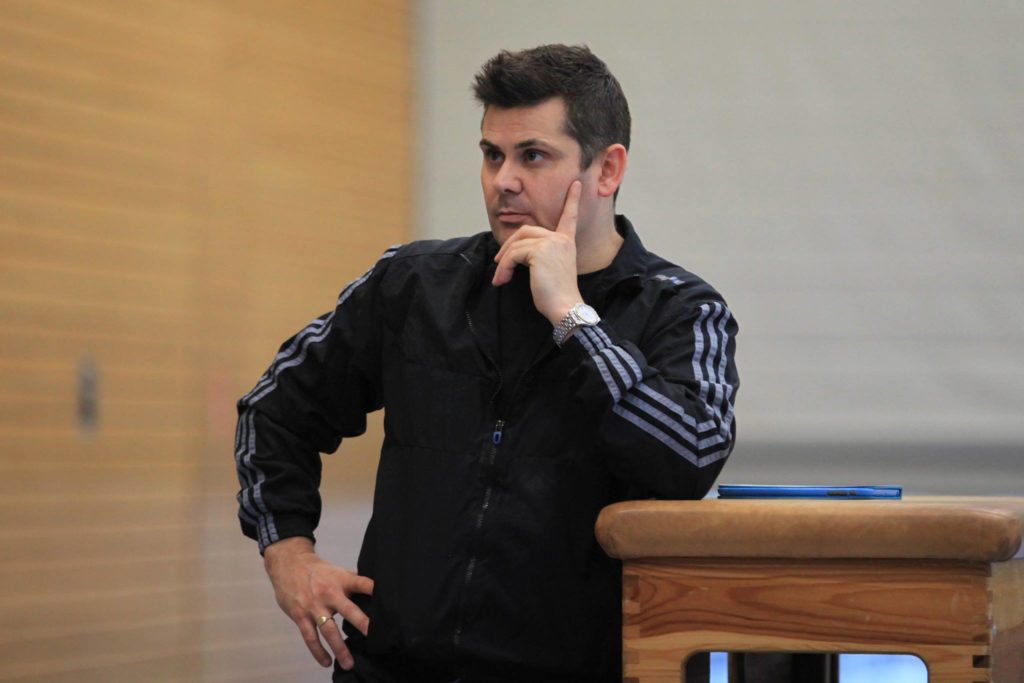 Schipfel: Although you are only watching the competition from the tribune, you seem to know exactly every single routine and every single move of the Heathrow gymnasts. Are you back at gym?
Griffiths: No, I'm not. I'm still not coaching at Heathrow, but I'm giving my brother Andrew and Alex Uttley, the coaches at the club, my full support. I regularly meet with them to talk and discuss what they need to do, and how to do it. More a mentor role of passing on my experience to them how to best manage situations and how to best be successful.
So that's the reason why you are here!?
Yes and no. I'm also guest of Carine Charlier, president of UEG Acro-TC. She thought it would be nice if I could come because of my many years in Acrobatics. I'm travelling a lot around the world helping different teams and trying to support Acrobatics and improve it internationally. If the level improves internationally it makes the sport stronger. So, I thought it was important to come and see what is happening in Europe, so that I can continue my knowledge. I need to understand where the sport is going.
And where is it going?
I've seen a big change in Acrobatics: There are certain nations now that didn't use to be at big focus and to be medal contenders, but are strong medal contenders now. And nations that used to be very strong, but their level seems to have dropped…
Give us examples.
Well, Israel has shot up the rankings. Countries like Italy make it to the finals for the first time. That's great for the sport. You have got the normal contenders like Russia and the eastern bloc countries that are still doing very well. But you are starting to see changes occurring in the sport.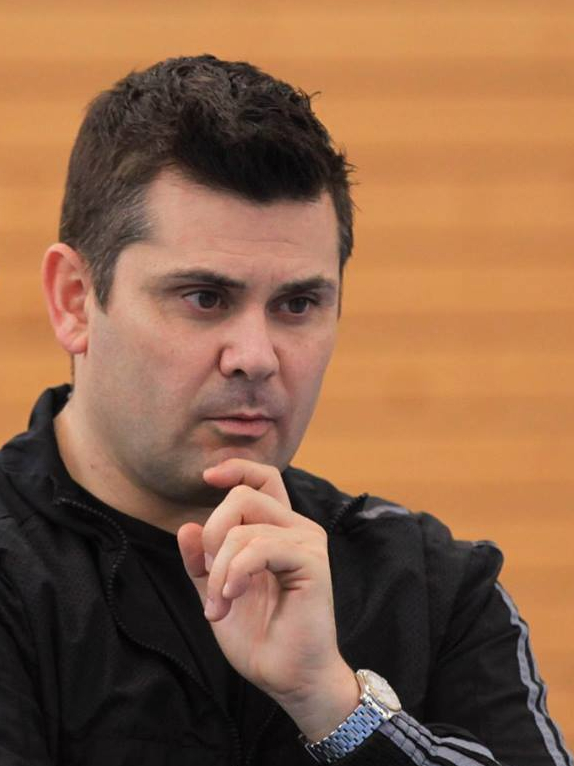 Which countries did you support?
Think of any country in Europe and I've probably been there: Germany, Belgium, Spain, Portugal, France, Italy, …
Even Russia?
No, I haven't been to Russia yet. Although I had my first invite to go and help Russia right here. Somebody actually spoke to me and said it would be lovely to have me out in Russia. So, who knows? It could happen soon.
And where have you been most often in the last few years?
I've put a lot of time into a certain club in Holland. I've worked extensively with the senior mixed pair from there. I've set up their programme from the beginning. It's probably been six or seven years now guiding and helping them. If they do a clean routine today, there is the possibility of a medal.
I also had a lot of input with Italy. You're starting to see different nations make it to the finals and I think I have had a little bit of input into it. I would hope they feel the same.
Do you meet the same problems everywhere?
I can't speak for Russia or China and places like that. But for a lot of the western world it's the same problem: Everything is having to be funded by the parents. I look forward to the day where Acrobatics is an Olympic sport – definitely in my lifetime I would hope it is. And where it gets the recognition it deserves. It's an amazing sport and it just needs the next step.
If you had the chance to give feedback to all the judges here in Holon, what would it be?
My feedback to the judges coming from a good place would be: The coaches spend their lives in the gym preparing gymnasts, and I just ask for – and that is what the oath of the judges at the beginning of the competition is about – a fair sport. That's all I want. I just want that the kids can feel when they are walking on the floor that they are judged fairly. I still feel sometimes you are judged by your flag rather than the performance. That is something I would encourage them to change because everybody deserves the same opportunity.
I'm not sure whether the sport needs to go down the line to having specific judges for technical aspects and specific judges that are trained artistically. Because so much time and expense go into the artistic preparation. And I don't understand artistry at all now. It's an area that is really confusing for me because every competition the scores seem to change, and there is no consistency with what's a good routine and what's not. From one competition to the next. If I was a choreographer, I would have no idea what to teach a pair or group to score well. So, I think that's an area for the judges to really invest time in and maybe look at getting specialist judges to judge artistry so that it is really clear for all the coaches. I think that would help again to develop the sport.
What about the technical scores?
At this competition, the rankings and the orders seem to be okay in most parts. Execution scores seem to be fair. But the artistry scores are – not only for myself, I have spoken to many nations, many friends across and everybody has the same feeling – not justified in some cases and seem to be a little bit up and down, and that is something that needs to be rectified.
When will we see you again as a coach of Great Britain?
At the beginning it was strange not to coach at a club in Great Britain, but as time has passed, I get enjoyment in different aspects. Okay, I don't have the success personally, but I support my brother doing that. I am now traveling to different clubs in many countries to help their athletes in trying to achieve their best and to pass on my knowledge to coaches around the world. I feel this is the best way for me to play my part in trying to further the sport of Acrobatics and to hopefully continue to increase the level and participation of the sport around the world. Will I go back to coaching full time for Great Britain; maybe one day, time will tell. I'm a positive kind of person. When one door closes, another door opens. I have got a family that loves me and I'm healthy, and above all that is the most important.
Category: EM 2019 in Holon, Personalien und Verbandsangelegenheiten